Chicago, IL – January 16, 2021 – Hoffenberg & Block, LLC is proud to announce that Gabriela O. Asrow been promoted from Associate to Partner with the firm.  Gloria E. Block, one of the firm's Founding Partners, said: "Gabriela has demonstrated leadership, an exemplary work ethic, and an unwavering commitment to our firm's clients and values.  Already an integral and highly valued member of Hoffenberg & Block, Gabriela's new position as Partner will further allow her to positively impact our practice."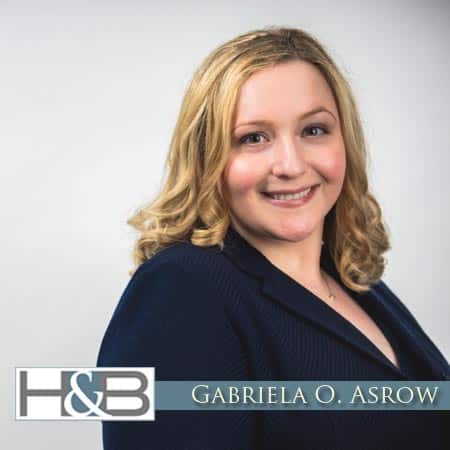 Ms. Asrow focuses her practice on a wide range of divorce and parentage matters, including allocation of parental responsibilities (formerly known as custody), child support, parenting time, relocation, pre- and post-nuptial agreements, same sex civil union and marriage, surrogacy, adoption, property division, maintenance, and domestic violence.
Ms. Asrow received her Juris Doctor from Chicago-Kent College of Law in 2014.  Ms. Asrow earned a certificate in Litigation and Alternative Dispute Resolution from Chicago-Kent College of Law and is a certified mediator, having completed extensive training through the Chicago Center for Conflict Resolution.  Ms. Asrow is also certified in collaborative divorce, and is Collaborative Fellow of Collaborative Divorce Illinois.
About Hoffenberg & Block LLC – The Chicago Family Lawyers
Hoffenberg & Block, LLC is a full-service Chicago Family Law Firm serving clients from Cook, Lake, DuPage and McHenry counties in Illinois for over 45 years. The firm dedicates its practice exclusively to matters of family law, such as Divorce, Child Custody and Visitation, Spousal and Child Support, Prenuptial Agreements and Modification and Enforcement of existing judgments. A no obligation case evaluation is available to all new clients. Hoffenberg and Block LLC can be reached directly by calling 312-853-8000, or visiting ChicagoFamilyLawyer.com, where more information on their services and attorneys is available.
Media Inquiries & Additional Information
Hoffenberg & Block, LLC
30 N. LaSalle
Suite 3250
Chicago, IL 60602
Phone: (312) 853-8000