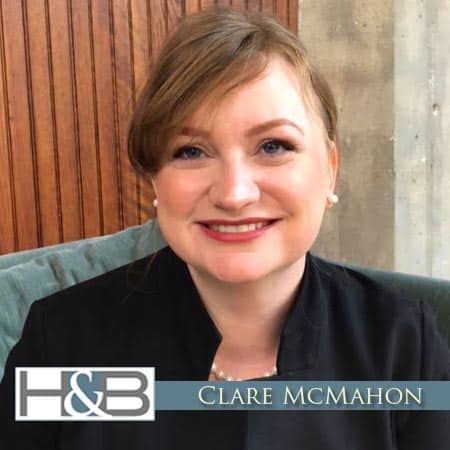 Clare McMahon joined Hoffenberg & Block, LLC in 2020. Prior to joining the firm, Ms. McMahon ran a successful small firm and solo practice for seven years. Ms. McMahon is a certified mediator and also represents children as appointed by the courts as a guardian ad litem as well as child's representative in domestic relations matters.
Ms. McMahon believes in counseling clients about all aspects of their matters so as to assist in ensuring that upon resolution of their matter, clients have the capacity to move into the next chapter of their lives. Ms. McMahon has experience bringing divorce and custody cases to trial, as well as experience with complex financial estates. Ms. McMahon also handles appellate work.
Ms. McMahon ascribes to the philosophy that clients are frequently happier when they have more control over their futures; she works diligently to settle cases that can be settled and counsels parties regularly regarding risks of litigation and the benefits of a fair settlement.
Ms. McMahon is a 2009 graduate of Chicago-Kent College of Law. She is licensed to practice law in the States of Illinois and Wisconsin. Ms. McMahon is an active member in many bar associations, including the Illinois State Bar Association, and the Northwest Suburban Bar Association, and the Chicago Bar Association, where she sits on the Editorial Board for the association's magazine, the CBA Record.