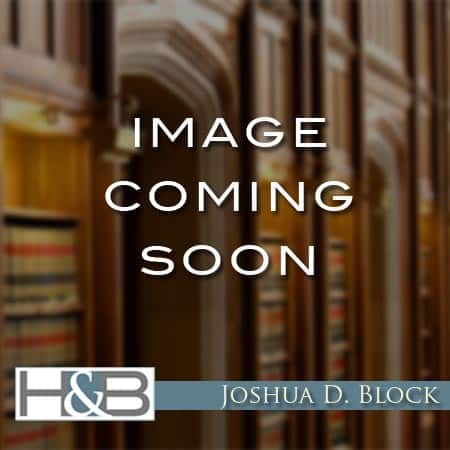 Joshua D. Block joined Hoffenberg & Block, LLC as an associate attorney in the winter of 2018. A third generation attorney, Joshua began his legal career under the guidance of his aunt, Gloria E. Block, a founding partner of the firm. His grandfather, Arnold F. Block was also a distinguished member of the Illinois bar. Prior to joining the firm as an attorney, Joshua worked extensively as a law clerk for Hoffenberg & Block throughout law school.
Joshua has focused his legal career on all aspects of family law, including; divorce, allocation of parental responsibilities (formally known as custody), parenting time, child support, maintenance, prenuptial and postnuptial matters, same-sex civil unions and marriage, surrogacy, adoption, and all matters related to families, with a special consideration on aiding survivors of domestic violence and abuse. He has experience working on cases ranging from uncontested simple divorces to highly contested, high net worth cases with complex financial issues.
Joshua believes that communication is a key aspect of representation, and works diligently at recognizing his client's underlying goals, interests, and concerns. With an informed understanding of the unique issues presented in each case, he zealously advocates on his client's behalf. He strives to work effectively through efficiency and strategy, being mindful of the costs typically associated with litigation. Whether during settlement negotiations or at trial, Joshua seeks to achieve the most favorable and cost-effective outcome for his clients. While family law cases are often extremely emotional situations, he works to remain objectively focused and pragmatic in his representation. Joshua finds it rewarding to know that he is helping people and their children through a very difficult time, and finds it gratifying to be an ally his clients can depend on.
Joshua received his Juris Doctor from the John Marshall Law School in May of 2018. As a law student he served as a judicial extern in the Cook County Domestic Relations Division under the supervision of the Honorable Judge Murphy, where his primary responsibilities included analyzing and dissecting arguments put forth at trial, as well as drafting opinions on the Judge's behalf. He was also actively involved in John Marshall's Domestic Violence Victim's Advocacy Clinic, where he authored a presentation on the rights of domestic abuse survivors fleeing abuse with their children and delivered that presentation to a group of licensed domestic violence counselors.
Joshua grew up predominately in Milwaukee, WI, and graduated from the University of Wisconsin-Milwaukee with a B.A. in Philosophy. He also spent two years at Purdue University, where he was a member of the Division 1 club Lacrosse program.