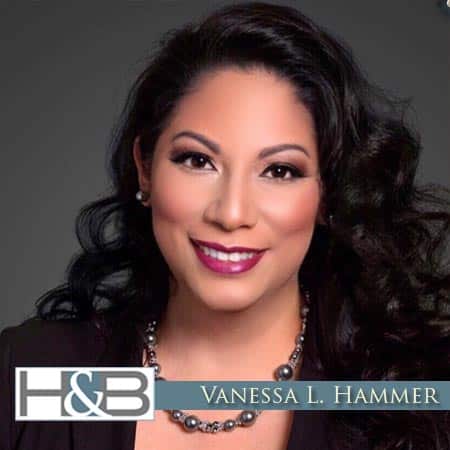 Vanessa L. Hammer practices exclusively in the area of Matrimonial/Family law. Vanessa has proven success in representing a wide range of clients in all areas of family law including high-net-worth professionals, executives, and business owners. While Vanessa is a skilled trial lawyer with many years of litigation experience, she also encourages and utilizes, where appropriate, various forms of alternative dispute resolution such as mediation and the collaborative/cooperative law processes in order to yield the best possible results for her clients.
Financial Acumen to Serve High-Net-Worth Professionals
Vanessa has significant experience handling complex financial divorce cases including sophisticated family estate plans, valuation issues, and forensic tracing. Her wealth of experience allows her to handle unique compensation structures of business and financial sector executives, entrepreneurs, physicians, and other high-net-worth professionals.
Success with Contentious Child-Related Conflicts
In addition to her financial acumen, Vanessa has a significant record of success handling high-conflict contested custody, visitation, and relocation cases in both state and federal court. She has also prosecuted and defended matters involving international kidnapping and wrongful retention cases brought under the Hague Convention as well as interstate child custody litigation under the Uniform Child Custody Jurisdiction and Enforcement Act (UCCJEA).
Mediation and Child Representation
In addition to her litigation practice, Vanessa is also a trained mediator and offers mediation services to help families resolve property and/or parenting disputes. Vanessa also serves, at the discretion of the Court, as a Guardian Ad Litem/Child Representative in both Cook and Du Page counties.
Serving Clients in Illinois and Texas
Vanessa received her law degree from the University of Houston Law Center and is licensed to practice in Illinois and Texas and in
the United States District Court, Northern District of Illinois and Southern District of Texas. Vanessa is a graduate of the University of Texas at Austin where she earned a Bachelor of Arts in Mexican-American Studies.
Highly Regarded in the Field of Family Law
Vanessa's ability to guide clients through divorce-related matters and effectively handle their unique circumstances has been widely recognized. She was selected as:
Illinois Super Lawyer 2018- 2019
Emerging Lawyer 2017- 2019, Leading Lawyers Network
Best Lawyers, Selected 2019
Texas Super Lawyers Rising Star 2017
Illinois Super Lawyers Rising Star for 2012-2013
Vanessa is a member of numerous associations, including: Illinois State Bar Association (Family Law Section, Racial and Ethnic Minorities and the Law Standing Committee Member), DuPage County Bar Association, State Bar of Texas (Family Law Section), American Bar Association (Family Law and International Law Sections), and the Hispanic National Bar Association. Vanessa is fluent in Spanish and welcomes the opportunity to assist Spanish-speaking clients.