Chicago Divorce Lawyers
We represent divorcing clients in Cook, Lake, DuPage, Will and McHenry Counties in Illinois.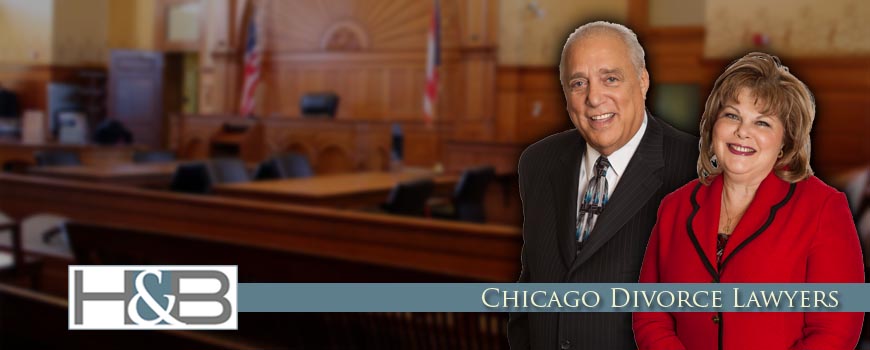 Experienced & Compassionate Divorce Attorneys in Chicago
Divorce, also referred to as "dissolution of marriage", occurs when a marriage is legally terminated. Illinois law governs all matters concerning divorce, legal separation, child custody, child support, spousal support, and property division.
If you are considering a divorce or have been served with divorce papers, it is important to retain the services of an experienced Chicago divorce lawyer to protect your rights and provide you with the necessary legal counsel during the divorce proceedings.
Hoffenberg and Block provides comprehensive legal representation to divorcing clients in Chicago, including, Cook, Lake, DuPage, Will and McHenryCounties in Illinois.
When spouses decide to move forward with a divorce, often times immense conflict and emotional trauma can ensue, especially when children are involved. For this reason, it is prudent that any person considering divorce speak with a skilled Chicago divorce lawyer. A dedicated family law attorney can inform the person of their legal options, provide helpful guidance, and protect the person's rights.
Divorce, whether contested or uncontested, can be complex a legal process. With guidance from an experienced divorce lawyer, you can ensure court actions are filed accurately and that the process is completed as efficiently and cost-effectively as possible.
When you are going through a divorce, there are many difficult decisions to be made. You must decide where to live and how your assets will be distributed. If you have children, you will have to work out the issues of child custody and child support. A decision that is perhaps equally important to the outcome of your divorce and its impact on your future is your choice of divorce attorney. The legal professionals at Hoffenberg and Block, LLC have been practicing divorce and family law for over 45 years. A top Chicago divorce lawyer from our firm can aggressively represent you and work to negotiate on your behalf so that you can confidently move forward through this changing time in your life.
We can help with all aspects of your divorce:
Uncontested Divorce
Is it possible that you and your spouse can resolve your divorce amicably? If so, an uncontested divorce may be an option for you. An uncontested divorce is when neither party will be opposing any of the points that need to be addressed in your divorce and is often a cost-effective method that allows two people to end their marriage as efficiently and amicably as possible.
Contested Divorce
Dealing with any divorce is difficult enough, but when spouses cannot agree with respect to key issues that must be resolved, they can find themselves facing a contested divorce. An adversarial divorce such as this may not only be expensive and time consuming for both parties involved but may also have a lasting emotional impact on the spouses and any children.
High Net-Worth Divorce
In cases involving high net worth, including large estates, numerous properties or substantial business holdings, it is vitally important that you secure the help of an experienced Chicago high net worth divorce attorney early on in the process. Divorce cases involving high net worth individuals often require extensive discovery, forensic investigation, real estate appraisals and business valuations. Because of these factors, high net worth divorce cases can be more complex to litigate, especially if contested by one or both parties. Read More
Child Custody and Allocation of Parental Responsibilities
Issues involving child custody and allocation of parental responsibilities (parenting time) can surface in both uncontested and contested divorce cases. If you are attempting to protect your parental rights and secure the best interests of your children without the assistance of Chicago family law attorney, you may end up with a less than acceptable outcome of your case. Read More
Child Support
A child's welfare is the most important aspect of most parents' lives. When a divorce occurs, their well being can be greatly affected through economic changes in lifestyle. When confronting the issue of child support, having a skilled Chicago child support attorney is crucial to ensuring your children will have the financial support to maintain their quality of life. Read More
Property Division – Equitable Distribution of Assets
Most couples accumulate many things during their years of marriage. Whether you have been married a short time or a very long time, there will undoubtedly be a good deal common property that belongs to both of you that will need to be divided between the two of you during your divorce. The distribution of your assets, property and debts should be done according to your prenuptial agreement or by the laws of the state of Illinois if no such agreement exists. It is very important to have an experienced Chicago property division attorney in your corner to protect your rights. Read More
Visitation and Parenting Time
Parents have a right to seek visitation with their children if they do not have physical custody. The only exception may be if a court has determined that the parent poses a threat to the child's safety and wellbeing. Seeking visitation can be a complicated process, particularly if there are other issues that need to be addressed, such as establishing paternity or enforcing/modifying an existing visitation order. Talk to your attorney to review your parenting plan to ensure that your rights to visitation are not taken advantage of.
Chicago Divorce Lawyers
At Hoffenberg and Block, our team of legal professionals is experienced in all aspects of Illinois divorce law. Whether your divorce is contested or uncontested, involves a prenuptial or postnuptial agreement, needs child custody or support terms to be negotiated or any number of other circumstances, a family law attorney from our firm may be able to help. Issues that arise from divorce can be confusing and complicated. High net-worth divorce cases can provoke a great deal of conflict when it comes to the distribution of complex assets, especially if hidden assets are uncovered or there is disagreement about how they should be equitably distributed. Fortunately, our Chicago divorce lawyers serving clients throughout Cook, Lake, DuPage Will and McHenry counties in Illinois are available to help.
The depth of experience and dedication among our professional staff has earned us a reputation as consummate litigators, with consistent favorable outcomes for our clients. We are committed to you and your family. Contact us today to schedule a no-obligation case evaluation to discuss your divorce representation.

We represent divorcing clients in Cook, Lake, DuPage, Will and McHenry counties and throughout the Chicagoland area.
To discuss your divorce with an experienced Chicago Divorce Lawyer, contact Hoffenberg & Block today at 312-853-8000 or Click Here to schedule a confidential case evaluation.
Question: How can Hoffenberg & Block, LLC help me as a divorce lawyer in Chicago?
Answer: Hoffenberg & Block, LLC is a divorce lawyer in Chicago that can help you with all aspects of your divorce, including:
Divorce mediation: We can help you mediate a settlement with your spouse. This is a less expensive and less adversarial way to end your marriage.

Uncontested divorce: If you and your spouse agree on all the terms of your divorce, we can help you file for an uncontested divorce. This is a faster and less expensive way to end your marriage.

Contested divorce: If you and your spouse cannot agree on the terms of your divorce, we can represent you in court. We have the experience and knowledge to fight for your rights and get you the best possible outcome.
We are also familiar with the local laws and procedures in Chicago, which means that we can help you navigate the legal system and get the results you deserve. In addition to our legal expertise, we also offer compassionate and understanding support. We understand that going through a divorce is a difficult time, and we are here to help you through it. If you are facing a divorce, please contact Hoffenberg & Block, LLC today for a consultation. We would be happy to discuss your case and answer any questions you have.