Chicago Same-Sex Marriage & Civil Union Attorneys
Experienced Representation In Gay And Lesbian Family Law Matters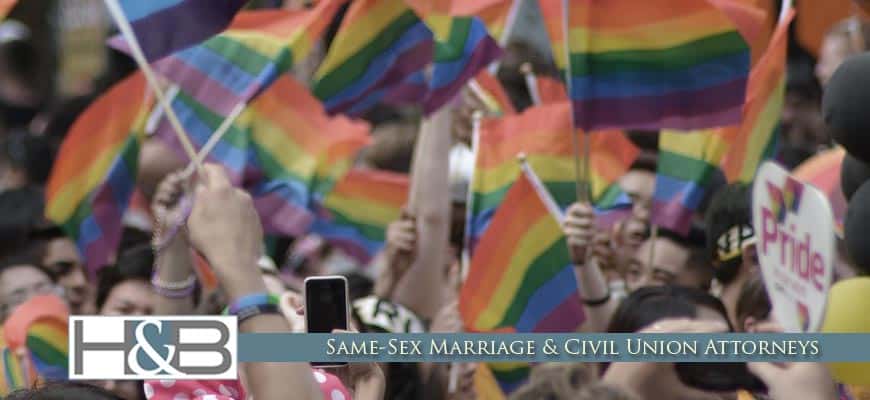 Chicago Gay and Lesbian Family Law Attorneys
Illinois Same-Sex Divorce And Civil Union Dissolution Lawyers
As of June 1, 2014, Illinois recognizes same-sex marriages. The previously in place Civil Union Act remains in effect, which allows two adults of either the same or opposite sex to enter into a Civil Union. Furthermore, the newest Act in place as of June 1, 2014, allows civil unions to be converted to marriages if certain steps are taken which are delineated fully in a recent article published to our Family Law Blog entitled:  New Illinois Same-Sex Marriage Laws.
When the Civil Union Act was first put into place, it was designed to provide litigants with the same or similar protections as provided under the Illinois Marriage and Dissolution of Marriage Act. Now that same-sex marriage is acknowledge in Illinois, your rights under the Civil Union Act and under the Illinois Marriage and Dissolution of Marriage Act are virtually identical, whether bound in matrimony or by civil union.
Currently several states do not recognize civil unions or same-sex marriages. As a result, it is important to understand the legal implications of your civil union or same-sex marriage should you decide to move out of state. Further, although the Defense of Marriage Act (DOMA) was struck down as unconstitutional by the United States Supreme Court last year, there still remains a myriad of conflicts between the federal and state laws as it relates to the financial implications of a dissolution of a same-sex marriage or civil union.
At Hoffenberg & Block, we provide professional and individualized legal representation for a wide range of family law concerns, including same-sex marriages and civil unions. Our firm has dedicated considerable time in order to become knowledgeable and up to date in this relatively new area of family law.
We represent same-sex couples in Chicago, including communities in Cook, Lake, DuPage, Will and McHenry Counties in Illinois.
Skilled Guidance From Cook County Same-Sex Union Attorneys
Our Chicago Same-Sex Marriage Attorneys are fully prepared to advise on even the most complex legal matters. We will help you understand your rights and options within our state, and also how that might be affected should you decide to move out of state. Whether you want to form a civil union or same-sex marriage or are in need of a dissolution, we will take the time to fully understand your situation and provide honest advice regarding your options.

To discuss your civil union or same-sex marriage concerns with an experienced family lawyer in Chicago, contact Hoffenberg & Block today at 312-853-8000 or Click Here to schedule a confidential case evaluation.