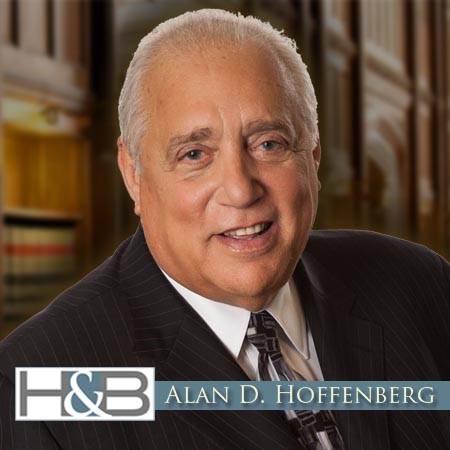 Alan D. Hoffenberg, a founding partner, has had a long and distinguished career in matrimonial law. After graduating from law school, Mr. Hoffenberg started his legal career doing litigation for a personal injury firm. Wanting to utilize his innate ability to communicate effectively with others to assist individuals and families in distress, he turned his attention to the specialized field of Matrimonial Law where he could combine his litigation and interpersonal skills into a fulfilling and rewarding family law practice.
His experience includes representing either party in a divorce action, ranging from the most basic to the very complex, including cases that involve high net worth individuals, large estates, numerous properties, substantial business holdings, detailed financial analysis, extensive discovery, forensic investigation, real estate appraisals, business valuations, awards of maintenance, child removal cases, as well as custody, visitation, and child support litigation.
Mr. Hoffenberg specializes in assisting clients to achieve the most favorable outcome in a divorce proceeding, whether by settlement or aggressive representation at trial. And while most cases ultimately settle, he maintains the realistic understanding that some cases cannot be settled. In these cases, he is a dynamic, experienced trial attorney that is prepared to bring a case to trial to present a client's position in a forceful, yet professional manner.
Dedicating his career exclusively to the practice of Matrimonial Law for more than forty years has taught Mr. Hoffenberg a great deal regarding the ins and outs of the legal field known as Domestic Relations. Because of his vast experience in Family law, virtually nothing can escape his watchful eyes. Mr. Hoffenberg is uniquely qualified and has the skill, knowledge and experience to ensure the full protection of your legal rights. He will handle all matters with compassion and sensitivity to minimize the impact on you and your family.
Mr. Hoffenberg has spoken at numerous professional seminars and has been a guest lecturer at various colleges and universities throughout the country. He is an established author and has written many articles on the subjects of Matrimonial and Family Law.
Mr. Hoffenberg is admitted to the Illinois State Bar, United States District Court, Northern District of Illinois, United States Court of Appeals for the circuit Court and the United States Supreme Court.
Mr. Hoffenberg's professional affiliations, both past and present, include the Illinois State Bar Association (ISBA), Chicago Bar Association (CBA), the American Academy of Matrimonial Lawyers (AAML), the American Bar Association (ABA), the International Academy of Matrimonial Lawyers (IAML), and the Lake County Bar Association (LCBA).
Mr. Hoffenberg has the distinct honor of being the past president of the Illinois Chapter of the American Academy of Matrimonial Lawyers. The AAML is a national organization that promotes professionalism and excellence in the practice of family law.
Being a member of the American Academy of Matrimonial Lawyers™ means:
Mr. Hoffenberg has demonstrated an active interest and competency in matrimonial law as evidenced by the fulfillment of criteria and standards as established by the AAML™ Board of Examiners and Board of Governors.
Mr. Hoffenberg has substantial experience and is able to handle complex matters relating to custody and support of children, property division and alimony or spousal support.
Mr. Hoffenberg is recognized by the bench and bar as a leading practitioner in the area of matrimonial law.
Mr. Hoffenberg has demonstrated substantial involvement in the matrimonial field and has endeavored to encourage the study, improve the practice, elevate the standards and advance the cause of matrimonial law.
Mr. Hoffenberg has been an annual recipient of the Top Illinois Super Lawyers designation since its inception.