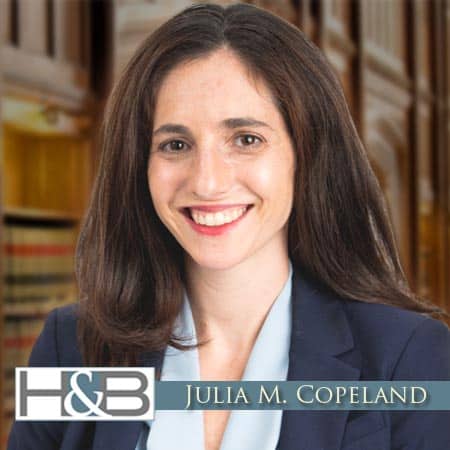 Julia Copeland has practiced exclusively in the area of family law since she graduated from law school in 2010, having previously practiced at another Chicago boutique family law firm prior to joining Hoffenberg & Block, LLC in 2018. Julia received her J.D. from Kent College of Law and her B.A. from the University of Wisconsin-Madison. Julia was on the Dean's List throughout law school and received multiple CALI awards for excellence in the classroom.
Julia prefers to get to know her clients on a professional and personal level. In doing so, Julia is able to provide representation that works for the client, and her clients' children. She understands the stresses of divorce and can provide you with honest and knowledgeable advice. Moreover, as a mother herself, Julia can empathize with clients dealing with parenting matters and can lend compassion and practical representation.
Julia understands that divorces can be stressful both emotionally and monetarily. She understands that oftentimes the money spent in a divorce proceeding was set aside for retirement or college. With that understanding, she strives to get the best results in every case while being cognizant of cost. By working efficiently and strategically, Julia seeks to achieve goals without needlessly spending client funds.
Julia is familiar with cases of all types, from uncontested simple divorces to highly contested high net worth estates. Regardless of the financial circumstances, Julia ensures that each case is handled in the most professional and appropriate manner. Moreover, Julia is well versed in all child-related issues, from parenting time and decision-making, to contribution to college expenses.
Julia is a certified mediator, as well as a strong litigation associate. She has participated and conducted multiple contentious family law hearings and trials. Having worked in the domestic relations division her entire career, Julia has a good reputation amongst her adversaries and the Court.
Julia is a member of the Illinois Bar Association and Chicago Bar Association, and is an active member in her downtown community.